Welcome To The Endorphin Society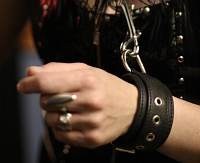 The Endorphin Society (TES) is a social & educational group for people 18 years and older in Wellington, New Zealand, who are interested in any aspect of BDSM/fetish. We are:
For all genders and sexual orientations.
A pan-sexual group.
Concerned with our members' safety and comfort.
Supportive of other regional and national BDSM/fetish events.
Welcoming to international visitors who want to learn about the NZ community.

On our site, you can learn more about us, and our history, events, and related NZ links.

Contact us today to get involved.